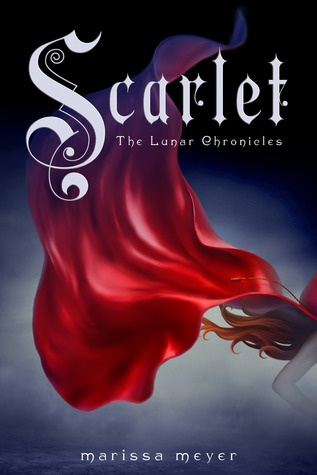 Title: Scarlet (Lunar Chronicles #2)
Author: Marissa Meyer
Hardcover, 452 pages
Published: February 5, 2013 by Feiwel and Friends
This is the second book in the Lunar Chronicles Series by Marissa Meyer. The books are loosely based on fairy tales which is why I was drawn to them.
The first book, "Cinder", is based on Cinderella and follows Cinder, a cyborg, as she struggles through her life with a step-mother and two step-sisters. She meets Prince Kai and he invites her to his ball where he will announce he plans to marry Queen Levana from Luna. Cinder discovers a message that Queen Levana plans to kill the prince after they are married and take over the Commonwealth and eventually all of Earth. Cinder goes to the ball to tell Prince Kai and ends up threatening the life of the Queen, getting arrested, and discovering a fun fact about herself in the process. Lots of other things happen, background things and family things, but I don't want to spoil it for anyone, so...
Scarlet is based on Red Riding Hood. It continues Cinder's story with her escape from prison. She is trying to get away, hide from Queen Levana and the military that is looking for her, and find out something about her past. Scarlet lives with her grandmother on a farm in rural France. Her grandmother is kidnapped and Scarlet tries to find her when she meets Wolf, a street fighter. He says he will help her find her grandmother, but he is not what he seems. Meanwhile, Cinder is also looking for Scarlet's grandmother because she thinks she can tell her about her past - the years she doesn't remember.
This book is action-packed. I couldn't put it down. I had to know what happened next. The female characters are amazing! Even Cinder's favorite android, Iko, is tough! I was expecting to be disappointed with the male characters when I started this book, but they weren't all weak and disgusting. Thorne, Cinder's fellow escapee, is growing on me. Scarlet's father WAS a wimp. But Wolf makes up for him. He is strong and I know eventually he will be more of a hero. And I believe Prince Kai wants to be a good leader. He will figure it out. Maybe in the next book! I can't wait to get started reading it!