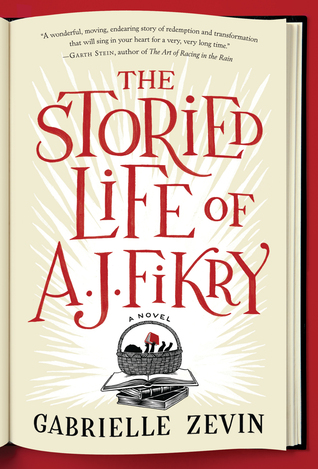 Title: The Storied Life of A. J. Fikry
Published: April 1, 2014 by Algonquin Books
Setting: Alice Island, Massachusetts (US)
from Goodreads:
On the faded Island Books sign hanging over the porch of the Victorian cottage is the motto "No Man Is an Island; Every Book Is a World." A. J. Fikry, the irascible owner, is about to discover just what that truly means.

A. J. Fikry's life is not at all what he expected it to be. His wife has died, his bookstore is experiencing the worst sales in its history, and now his prized possession, a rare collection of Poe poems, has been stolen. Slowly but surely, he is isolating himself from all the people of Alice Island-from Lambiase, the well-intentioned police officer who's always felt kindly toward Fikry; from Ismay, his sister-in-law who is hell-bent on saving him from his dreary self; from Amelia, the lovely and idealistic (if eccentric) Knightley Press sales rep who keeps on taking the ferry over to Alice Island, refusing to be deterred by A.J.'s bad attitude. Even the books in his store have stopped holding pleasure for him. These days, A.J. can only see them as a sign of a world that is changing too rapidly.

And then a mysterious package appears at the bookstore. It's a small package, but large in weight. It's that unexpected arrival that gives A. J. Fikry the opportunity to make his life over, the ability to see everything anew. It doesn't take long for the locals to notice the change overcoming A.J.; or for that determined sales rep, Amelia, to see her curmudgeonly client in a new light; or for the wisdom of all those books to become again the lifeblood of A.J.'s world; or for everything to twist again into a version of his life that he didn't see coming. As surprising as it is moving, The Storied Life of A. J. Fikry is an unforgettable tale of transformation and second chances, an irresistible affirmation of why we read, and why we love.
Alleluialu's Review
It's so good. You have to read it! "A town isn't a town without a bookstore." It made me want to open one. This novel is filled with the best characters: a cranky bookseller who knows what he likes, a baby-child-teenager who is so smart, such a nerd, who loves books; the quirky book agent who just belongs there; the cop who learns he loves to read... And books, and books, and books, and books. This review is a bunch of babble, but the bottom line is - this book is so good, you have to read it. Thank you, Ms. Zevin, for sharing it with us.
At our book club meeting, we discussed the relationship to the short stories listed at the beginning of each chapter and the chapter itself. It gave such a new depth to this novel, I couldn't believe there was an even better reason to read it again! Every one of our members liked the book and had a different reason for doing so. It's such a good book. You have to read it.
If you think I would give this anything but 5 notes - A Symphony - you haven't read my babbling post above. This is an outstanding selection and a book worth reading!