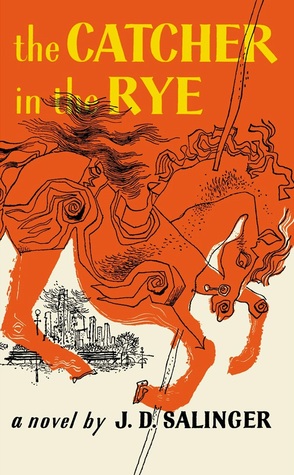 Title: The Catcher in the Rye
Author: J.D. Salinger
Paperback: 277 pages
Published: January 30, 2001
First Published: 1951
Publisher: Back Bay Books
Setting: New York City 1949
& Agerstown, PA 1949
Literary Awards: National Book Awards Nominee for Fiction (1952); Teen Read Award Nominee for Best All-Time Fave (2010)
from Goodreads:
Since his debut in 1951 as The Catcher in the Rye, Holden Caulfield has been synonymous with "cynical adolescent." Holden narrates the story of a couple of days in his sixteen-year-old life, just after he's been expelled from prep school, in a slang that sounds edgy even today and keeps this novel on banned book lists. It begins,
"If you really want to hear about it, the first thing you'll probably want to know is where I was born and what my lousy childhood was like, and how my parents were occupied and all before they had me, and all that David Copperfield kind of crap, but I don't feel like going into it, if you want to know the truth. In the first place, that stuff bores me, and in the second place, my parents would have about two hemorrhages apiece if I told anything pretty personal about them."
His constant wry observations about what he encounters, from teachers to phonies (the two of course are not mutually exclusive) capture the essence of the eternal teenage experience of alienation.
Alleluialu's Review:
The first time I tried to read this book - many years ago - I didn't like it at all. Then my current book club chose it for our July selection. Hmmm...what to do... I decided to give it another go. And it wasn't bad. Yes, Holden used language I didn't like, but it wasn't that bad. He used "goddam" a lot! And he repeated phrases as though he was trying to convince the reader that what he said was true, he really did (like that). Anyway, I kind of liked him by the end of the book. He seemed as though he wanted to do the right thing most of the time, but he was so depressed that he couldn't stick with anything for very long. He went from one boarding school to another because he didn't really care about getting an education or anything really. He did seem to make an impression on his English teachers though. The story is being told as he reflects on things that happened in the past while he is in a place where he can get some rest. It begins as he is kicked out of another school, Pencey. He visits his English teacher, has a fight with his roommate, then decides to take off and go to New York until his Christmas vacation actually starts instead of telling his parents to come get him. Most of the book is about his adventures and misadventures during those few days. He books a hotel room, goes to bars, tries to hook up with a prostitute, gets beat up, calls old girlfriends, visits yet another past English teacher, and finally sneaks in to see his sister. Apparently he is getting sick because he passes out a couple of times. After the last time, the reader is jolted forward to the resting place again. It is near his brother who is a writer and lives in Hollywood. He tells his brother his stories, hence the book. This book is a classic. Some people question that, but I offer this quote as my opinion on why this book is valuable. It was said to Holden by one of his English teachers.
"Many, many men have been just as troubled morally and spiritually as you are right now. Happily some of them kept records of their troubles. You'll learn from them – if you want to. Just as someday, if you have something to offer, someone will learn something from you. It's a beautiful reciprocal arrangement. And it isn't education. It's history. It's poetry."
So, that's it. I didn't love the book, but I do think it was worth reading.
I gave it an Arpeggio - 3 notes! If you want to read "The Catcher in the Rye" you can get it at your local library or
here
from Amazon or
here
from Barnes & Noble.