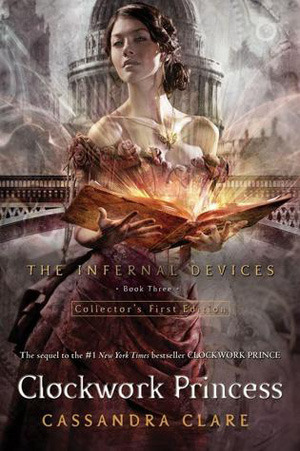 Title: Clockwork Princess
(The Infernal Devices #3)
Published: March 19, 2013
Publisher: Simon & Schuster Margaret K. McElderry
Setting: London, England 1878
Danger and betrayal, secrets and enchantment in the breathtaking conclusion to the Infernal Devices trilogy.
Tessa Gray should be happy - aren't all brides happy?
Yet as she prepares for her wedding, a net of shadows begins to tighten around the Shadowhunters of the London Institute.
A new demon appears, one linked by blood and secrecy to Mortmain, the man who plans to use his army of pitiless automatons, the Infernal Devices, to destroy the Shadowhunters. Mortmain needs only one last item to complete his plan. He needs Tessa. And Jem and Will, the boys who lay equal claim to Tessa's heart, will do anything to save her.

Alleluialu's Review
** spoiler alert ** I started reading Cassandra Clare with her first book which was a while ago - a long while ago. I believe I have read all of them so far except the very newest one. I know I was very excited during the first three books. I didn't care as much for the Infernal Devices series but I'm not sure why. I do like the characters of Will, Tessa and Jem. The mechanical characters are creepy. I guess they are supposed to be. As far as the relationships between Will & Tessa and Tessa & Jem, I'm not sure I agree that you can split your heart evenly in two. I think Tessa made a choice to love Jem, but she loved Will more - she just chose not to follow that path until she was morally able to do so. Then she loved Will wholeheartedly. When Will dies, and she finds out Jem is available, she goes wholeheartedly back to him. Hard for me to believe. Anyway, I have other questions - if Tessa no longer has Ithuriel protecting her, how can she still be immortal? And how did Jem get out of the Silent Brotherhood? Apparently I will have to read the newest volume. I am trying to remember if Tessa was ever mentioned in the original works. I don't remember her, but apparently she could have been present since she was still alive. Anyway, it was a good read and there were adventures and victories, but it was a little confusing as far as relationships go.
I gave this book 4 stars because even though I liked it, I wasn't as excited about it as I was about the other volumes Cassandra has written. I look forward to reading the newest book to see if she wraps things up. You can get a copy of this book at your local library or here on Amazon or here on Barnes & Noble.