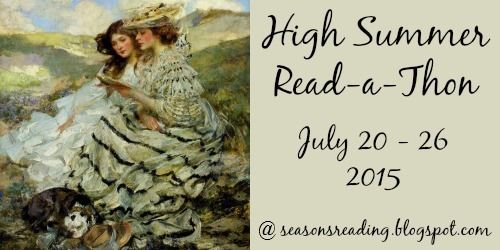 It's summer! Time to relax and read, and read, and read. Seasons of Reading is sponsoring the High Summer Read-a-Thon to help you do just that - relax and read!
T
here really are no requirements to join this read-a-thon at
Seasons of Reading
. You do not have to have a blog. You can join from Facebook, Twitter, or Goodreads. Sign-up here.
Children's books are allowed as long as you are also reading some adult selections.
There will be one big giveaway at the end of the read-a-thon, but you must have participated in the read-a-thon to qualify. This means signing up and linking up your wrap-up at the end (winners are chosen from the wrap-up linky).
The hashtag for this Read-a-Thon is #HSreadathon on Twitter (or Facebook). You can see the rest of the details for the Read-a-Thon here.
Here is the read-a-thon credo as proclaimed by Seasons of Reading:
a week of relaxed reading during which we can personally challenge ourselves and whittle away those ever looming TBR piles/shelves/libraries. So, no pressure...EVER! Enjoy!